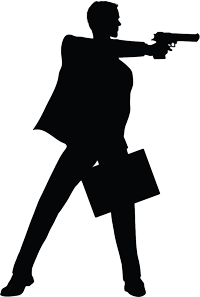 What is a hosted murder mystery party?
It's an interactive, exciting and extremely silly game of 'whodunit' hosted by the team from MURDER MYSTERY FUN. Under their guidance, you and your guests are the stars in a murder case, where the plots are irreverent and fun is the primary focus.
The aim of the game is very simple; find the murderer before they get an opportunity to strike again. You'd better be quick though, because they can strike several times during the course of the game. So put your thinking caps on and find the murderer before they find you.
A hosted murder mystery gets people talking and interacting. Under our guidance your event is transformed into a party that's ridiculous amounts of fun to play.  So whatever you're planning,  we'd love to help you make make it amazing.
Contact us for a quote today.
The perfect entertainment option for any of the following:
Conferences
Team bonding & Team building experience
Christmas Parties
Birthday Parties
Our hosts are the best in the biz!
Hosted entertainment needs an amazing host that's full of energy and knows how to keep you and your guests entertained all night long. The good news is we have some of Sydney's best actor/comedians on hand to entertain you, and they're just itching to show you a night of murder, mystery and seriously good fun.
When we're on the case you can sit back, relax and enjoy yourself. We take time to make sure everyone is comfortable and is aware of how the murder mystery will run. We also take care of all aspects of the murder mystery by liaising with the venue to co-ordinate it's running around any existing meal plans.
We can safely say,  with over 10 years experience in creating fantastic murder mystery entertainment that's fun and all-inclusive,  you can be assured that when  you book us, you book peace of mind.
Contact us for a quote today.
Here's what GLOBUS said about  our hosted murder mystery parties:
"…Murder Mystery Fun liaised with our resort to set up the evening & left very little work for me (conference organiser) to do. It was fabulous. They are both fantastic actors, and set up the scene well, the team loved it, and would definitely consider using them again. Communication was fabulous, emailing & calling to set up & also a follow up email. We had a fantastic night & everyone is still talking about it- THANK YOU!…"
N.Pascoe